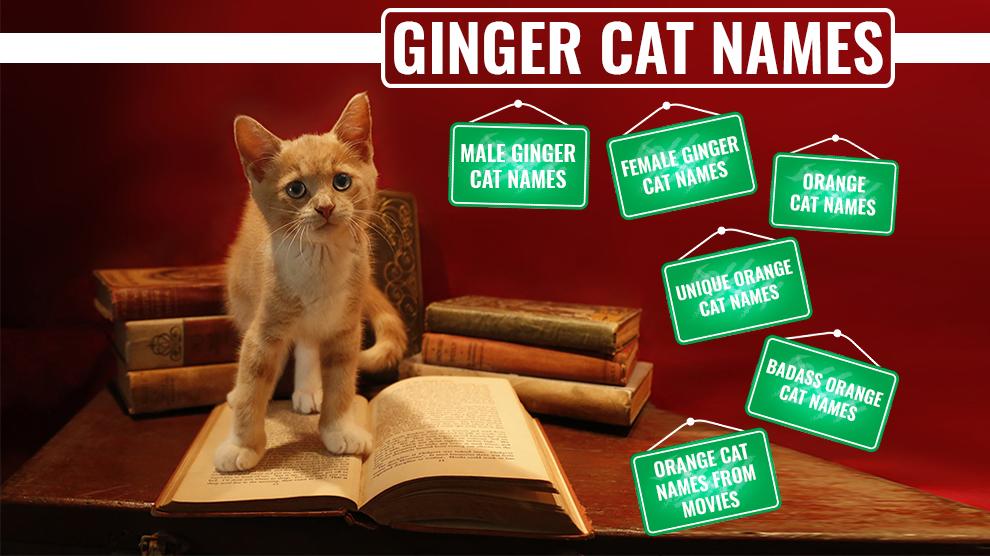 Cat Pregnancy Calculator And Timeline
Cool and friendly, ginger cats are really special! The most common pet of many households, they are the cutest!  But, it is not a distinct cat breed like the Bengal Cat. The name "ginger" actually refers to its coat color.
Unlike the mysterious black cats and aloof white cats, ginger cats are highly spirited and playful, too! It is an excellent pet and is a relaxed, happy, and easy-goer.
The cool kid of the cat world, undoubtedly ginger cat is the favorite for many feline owners!
So, naming these gleaming cats involves a few considerations. Generally, feline owners consider the coat color of cats. But, a short and sweet name is an apt choice for them! And, the name should sound great in public!
The most exciting fact about the ginger cat is that males always outnumber females. You can find eighty males to twenty females. Generally, males have distinct personalities.
Names that are inspirational, and fit their traits and outward behavior will be the ideal choice! A few human names will also be suitable for ginger cats. You can also choose the names of famous personalities.
Amber
Apri
Chai
Copper
Crimson
Eclair
Flame
Glitter
Harry
Kenji
Kyo
Mandarin
Milano
Nacho
Nubit
Nutmeg
Opus
Peter
Rhino
Rio
Rojo
Rupert
Smokey
Squash
Sunshine
Tiger
Tony
Vincent
Yolo
Zoro
Females are always flamboyant. They are calm, social, and loving personalities. Choosing names for your girl is quite easy. You can even find more names in many categories such as mannerism, appearance, and temperament!
If you feel difficult to find a name, just look at her face. She will give you the clues. You can even name your girl with the inspirational women from history! If you are inspired by stylish models, you can have their names for your girl cat!
Alba
Annie
Buttercup
Cali
Caramel
Choco
Emma
Fanta
Frida
Gina
Ginger
Goldie
Honey
Joan
Joy
Lola
Mango
Maple
Nile
Paprika
Poppy
Tang
Teuta
People in the United States of America refer to the ginger cats as orange-colored cats. The color orange represents joy, vitality, fun, and youth. Orange is also vibrant and popular among cats!
This color also represents adventure and social communication. So, go orange when naming these cats! You have to draw inspiration from the things, places, foods, and movie characters!
Aslan
Autumn
Benson
Brass
Carmello
Carmine
Chianti
Chips
Dali
Dority
Fajita
Ferry
Flame
Gala
Garnet
Gi Roux
Goldie
Iris
Jessica
Julius
Keegan
Kyo
Ladybug
Lava
Loki
Lucy
Mimosa
Orange
Peach
Salmon
Orange cats come in different coat types. Their coat color by default is their uniqueness.  But, you can create unique and funny names for them with your imagination.
Name your feline with whatever you can picture when you think of the color orange.
You may first get the imagery of flame. So, you can name your cat "Sunny."  The names of hot locations and deserts such as "Sahara" will also suit best for your orange-colored feline!
You can also name them with their eye colors.
Athens
Cairo
Goldfish
Fireball
Muppet
Ruby
Sunny
Cracker
Sahara
Mali
Moja
Yam
Mango
Brick
Flame
Ina
Rot
Dallol
Ginger cats or orange cats are courageous. They are strong and catch the prey with ease.
To have a tough name for your orange tabby, just choose a name that gives an ironic sense.  These names are the feisty choice for them, too!
Males
Axel
Boulder
Buck
Champ
Crusher
Diesel
Dozer
Flint
Magnus
Maverick
Nimbus
Odin
Rider
Rooster
Spike
Females
Astra
Banshee
Dakota
Darla
Godiva
Jezebelle
Katniss
Minx
Ophelia
Roxy
Sedona
Sumo
Titania
Vodka
Zelda
Do you remember the famous orange feline "Orlando, the Marmalade Cat, the main character in a series of children's books by British author Kathleen Hale?"
Orange cats are popular in films and television series as well. Fictional cats are unforgettable and are a great source of inspiration! If you love these fictional cats, you can have their names for your orange tabby!
Annie – The famous redhead
Beaker – The secondary star of The Muppet Show
Chester – The official mascot of Cheeto snacks
Chucky – A little bit dark
O'Brien – The late-night talk show host
Crookshank – Hermione Granger's magical ginger cat in the Harry Potter series
Daphne – Heroine of Scooby Doo
Ernie – The popular Sesame Street character
Hobbs – An orange cat from the Calvin and Hobbes comic strip
Merida – The main character in Disney's film "Brave
Nemo – An orange fish from Finding Nemo
Ron Weasley – The beloved redheaded character in the Harry Potter series
Simba – The orange lion from The Lion King
Tigger – A bouncing orange cat from Winnie the Pooh series
Winnie – Main character in "Winnie the Pooh"